The Sea Ranch Association Airstrip Briefing
Last update: March 15, 2019
This PRIVATE AIRSTRIP is for the use of Sea Ranch Association members, their invites, and their renters. Parked aircraft MUST display a valid Sea Ranch owner's decal, or a valid personal ID card, or a valid Sea Ranch vehicle hang tag clearly visible to The Sea Ranch Security personnel. Association members and rental agencies must provide this ID to their pilot invitees. Note that car transportation services such as taxis or private drivers (available through smartphone applications) are very limited in this coastal area and may not be available.
| | | | |
| --- | --- | --- | --- |
| CA51 (38° 42.2'N, 123° 25.8'W) | Elev: 360 ft. | Runways: 30/12 | Pattern Altitude: 1100 ft |
Runway
2600 ft. by 40 ft. Runway has a 300 ft. displaced threshold
Runway has hump in middle — prevents seeing traffic or deer at end
Turkeys and deer are frequently on or near the runways
A 25 foot AWOS tower is near the main windsock
Approach
On gusty days expect wind shear, turbulence and loss of lift on short final
No Straight-ins
No Base entries
Announce all intentions on 122.9
Runway 30 approach:
Enter right upwind at midfield. Check for deer, turkeys, or people on runway then right crosswind to right downwind to rightbase to final.
Runway 12 approach:
Airstrip license specifies that approach to Runway 12 be "…angled 15° westerly of runway…" i.e. from Pool and Tennis Courts (1 mile up the coast from Runway 12), turn to 105 and proceed to Runway 12.
Arrivals — always use right traffic
Departures — always use left traffic
Other
No operations between local sunset and sunrise
No touch-and-go landings (TGL)
Uncertified AWOS info available at 707-600-3847 or by 5 clicks on 122.9
Use airstrip, AWOS data and facilities at your own risk.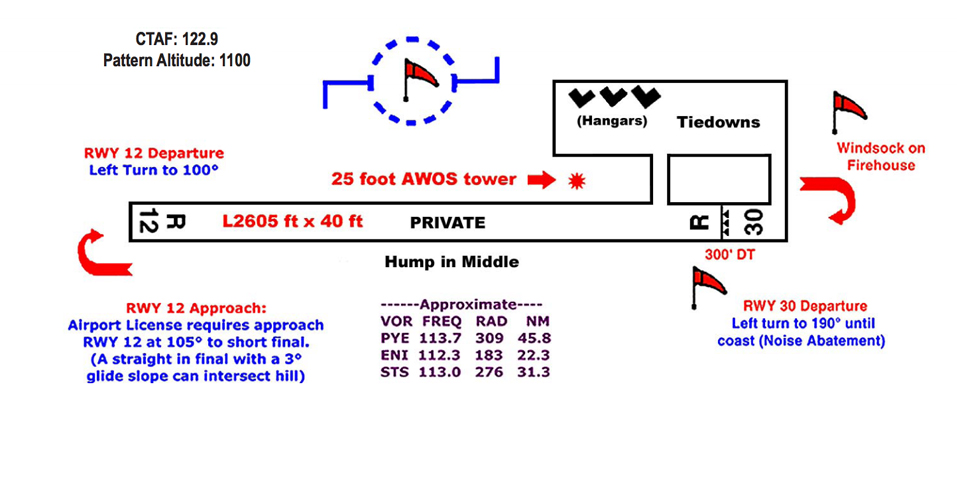 Download the current briefing document