"The Sea Ranch grew out of the vision of a unique community that would understand, respect, and work to protect this remarkable natural environment."

Gordon Beebe, Soundings, Fall 1998
The Sea Ranch is a community association of 2,225 private homes and undeveloped lots, sited with careful attention to the natural landscape along a 10-mile stretch of the Sonoma County coast in Northern California. This beautiful rural community encompasses over 2,200 acres of commons, 50+ miles of trails, and a variety of facilities for owner and guest use. The general public may enjoy The Sea Ranch by visiting public beaches via public access trails from Highway 1 or by renting a house from owners, local rental agencies or online vacation sites. Visitors to the area can play a round of golf at The Sea Ranch Golf Links or visit The Sea Ranch Chapel, a non-denominational work of art.
Safety/Emergencies
The Sea Ranch Association security staff patrols The Sea Ranch every day. For general information call 707-785-2444. To reach an on-duty officer for urgent matters call 707-785-2701. In an emergency, call 911 from a land line or the Sonoma County Sheriff at 707-565-2121 from a cell phone. For more information about Safety and Emergencies please visit our Safety and Emergencies page.
For Short-Term Renters
As a renter at The Sea Ranch you are required to know and obey the rules and regulations for owners and guests. You will find a wealth of information in a packet in the house you are renting. Please be sure to read it.
Maps of all The Sea Ranch trails are available for purchase at The Sea Ranch Association office, 975 Annapolis Road.
In addition to the Bluff Trail and hiking trails in the hills and forest, there are six self-guided interpretive trails with brochures describing historic and natural features.
Learn more about our recreation facilities (swimming pools, tennis courts, playgrounds and library)
Be sure to display the tag supplied by your rental agent on your vehicle's rear-view mirror or dashboard, or your vehicle will be subject to citation and immobilization.
Carry your pass with you when hiking the trails. The pass from your rental agent must be shown to enter any of the recreation centers.
Guests renting directly from owners should obtain vehicle tags and passes from their host.
Notice to Visitors, Tenants and Leasees
All Sea Ranch roads, most facilities, and most trails are private, for use only by owners and guests. Out of respect for this beautiful environment and personal safety, visitors should observe the following practices during their visit:
Stay on marked public access trails as all other paths and roads within The Sea Ranch are privately owned and not for public use.
Exercise caution: bluff edges are dangerous and frequently crumble.
Smoking and campfires are prohibited — dry forest and grasslands are an extreme wildfire risk.
Stay a reasonable distance from deer, harbor seals, and all other wildlife.
No bicycle riding on the Bluff Trail; no motorized vehicles on ANY trail.
Dogs at The Sea Ranch
Dogs must be kept on a 6-foot or shorter leash on trails, roads and beaches.
Dog waste must be removed and disposed of properly — there are no receptacles for dog waste at The Sea Ranch.
Public Beaches and Trails
Sonoma County Regional Parks manages six public access trails on The Sea Ranch, each leading to a separate area of the coast. Public access trails listed below start at Highway 1 parking areas (see mile markers indicated) and cross meadows and forests to the rugged coastline. Cliffside staircases lead to secluded beaches with sandy coves, tide pools and rock formations.
Black Point Beach: Steep staircase to ¼ mile long sandy beach with dramatic waves. Mile marker 50.85.
Pebble Beach: Small sheltered cove with tidepools. Mile marker 52.29.
Stengel Beach: Small rocky beach with stairs that end on a large rock; waterfall after rains. Mile marker 53.96.
Shell Beach: Sea stacks and tidepools; logs to sit on; ramp to walk small boats to the ocean. Mile marker 55.54.
Walk-On Beach: Long sandy beach. Wheelchair and stroller accessible, but it's a hard push through sandy spots. Mile Marker 56.48
Gualala Point Regional Park: Three miles of trails along coastal bluffs and above the Gualala River. Visitors can hike along the bluff three miles south to Walk-On Beach. Mile marker 58.50.
Historic Markers
In recognition of the complex and varied history of this unique and beautiful place, The Sea Ranch Archives Committee has placed informative markers on The Sea Ranch trails. These marker posts identify sites of historical significance from the second half of the 19th century through the first half of the 20th. Nine of these markers can be viewed via public access trails.
For a brochure with fascinating and complete descriptions of each of the public access sites, and the events and people they evoke, click on the following links:
Printed copies of the brochure are available for sale at The Sea Ranch Association office at 975 Annapolis Road, The Sea Ranch, CA.
To view the nine historic markers, the Sonoma County Regional Parks provides limited public parking at the trailheads of the following public access trails:
Gualala Point Regional Park: Historic Markers #1-6 and #12, can be hiked on one continuous trail
Stengel Beach: Historic Marker #16
Black Point Beach: Historic Marker #24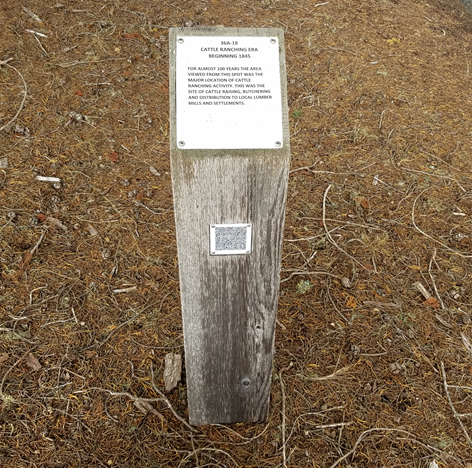 Photograph by Jon Loveless
The Sea Ranch Airstrip
This PRIVATE AIRSTRIP is 2,600-feet long. Members and guests can land and take off during daylight hours. Tie-downs and a public phone are available, but no other services. Before landing, pilots must review the airstrip briefing.